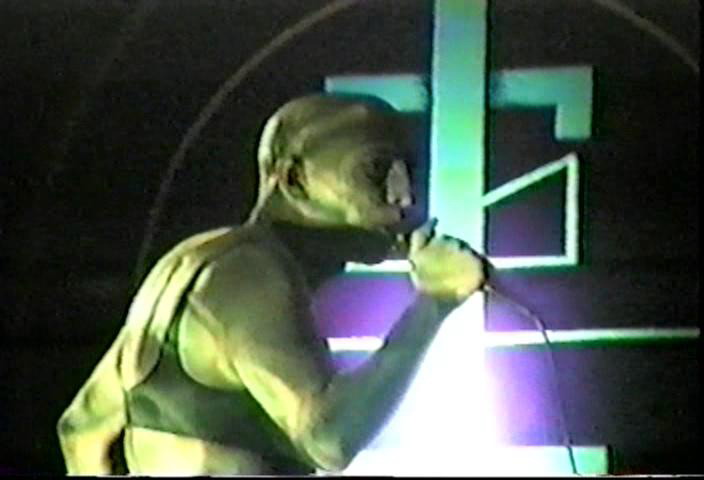 USA  /  English
Tool
08/25/98
Memorial Auditorium,
Sacramento, CA
Source: Unknown Filming Equipment (Left, Right, & Center Balconies) >
Low Generation VHS > DVD > .VOB
*Audio Codec: AC3
*Audio Bitrate: 256 kb/s
*Video bitrate: 9586 kb/s
Setlist:
Hooker With A Penis
Sweat
Eulogy
Stinkfist
You Lied (Buzz on guitar + Justin on backup vocals)
46 & 2
Merkaba
Sober
Pushit (alt)
Ænema
Jerk-Off
Hooker In A Penis (Lounge version, outro tape)
Post-Show (Walking outside)
Running Time: 93min. 03sec.
Notes: Three camera mix."Decent sound, interesting performance.
Multi-angle mix of this performance is the known version of this.
Which means that there are three other non-mixed video sources
out there, left + center + right. Only the matrix has been
known to float around. Same people did the following night's
performance. Interesting. Odd that there is not more known.
MJK is dressed up as the woman. Spooky stuff, sort of takes
Jung's concept of the shadow/yin & yang to another place.
I am sure that with lower gen copies of this performance
out there that the recording/capture of the performance
was rather tight. This also captures the BEST ever-charming
lounge version of Hooker. Still makes me chuckle. This
is the best source for this show I have ever seen & although
it is slightly grainy with a bit of analogue-noise at the
bottom of the screen, not a huge deal. All copies are like
that. All in all, definitely worth sitting back & taking it all in."#*
#Taken from http://www.collectiveunconscious.org
*Added 4-14-06
Orignally posted on dimeadozen.org by ovation
Found artwork on dimeadozen.org posted by omerta
*added by Leper_Messiah069
Region
Region 1
Date
1998-08-25
Standard Features
Discs
1